Weebly is one of the free options available to those who want to create a website of their own without any prior HTML training or by hiring a professional web designer. The site itself works by users using a built-in WYSIWYG -- What You See Is What You Get -- website editor. New users can create a site and begin posting within minutes by using a series of buttons and drag-and-drop features. However, once a website grows too large, individuals may want to move their site to a larger webhost or delete the website altogether. To delete a website or Weebly account, users must first log into their Weebly dashboard and enter either their account settings or the settings to each of their websites.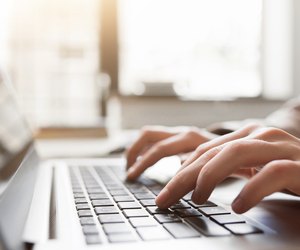 credit: golubovy/iStock/Getty Images
Step
Log into Weebly by clicking on the blue "Log In" button at the top of Weebly's main page. Sign in using your email address or username and password.
Step
Click on the "More" button beside the site you'd like to delete and scroll down the drop-down menu to the words "Delete Site" with a red "X" beside it. Confirm your request by clicking on the blue "Delete Site" button in the popup window, or "Cancel" if you'd like to keep it. Note you can always "Un-publish" your site and keep the information private. To do this, follow the steps listed below.
Step
Return to your site list and click on the blue "Edit" button beside the website you'd like to "Un-publish." Click on the "Settings" tab at the top of the screen once your website loads. Scroll down through the list of settings until you see "Archive/Un-publish." Click on this option and either back up or "Archive" your site by downloading it to your computer or click on "Un-publish" to make your site private.
Step
Click on the large "Save" button at the bottom of the page once you're finished. If you wish to delete your entire Weebly account, you may do so by following a few additional steps.
Step
Log back into Weebly to return to your main Weebly dashboard. Click on the "Account" tab at the top of the screen and then click on the link that says "Click Here" under the "Delete Account" heading. Give a reason as to why you're leaving in the window that pops up and then click on the blue "Delete Account" button.