Almost every device you connect to your computer requires a device driver to properly function. Manufacturers of computer devices often release updates to their drivers that increase stability, add features and ensure that the device remains compatible with changing technology. According to Microsoft.com, you can use the Windows Device Manager to see the drivers that are installed for your devices. This information helps you to make informed decisions on when to upgrade devices or install new drivers.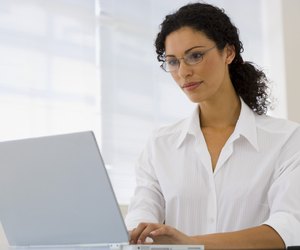 credit: Jupiterimages/Pixland/Getty Images
Step
Open the start menu and click "Run" to open the command prompt. In Windows Vista and Windows 7, you can type commands directly into the search bar.
Step
Type "devmgmt.msc" into the search bar or the command prompt. Press "Enter" or click "OK" to open the Device Manager.
Step
Click "View" on the menu bar and select "Devices by Type" to group the devices into sections according to their uses, such as display adapters or keyboards.
Step
Click the arrow next to each device category that you would like to check. The file tree will expand and show all devices on your computer that fall under each category.
Step
Double-click the name of a device to bring up the properties screen for that device. The properties screen's "General" tab will tell you under "Device Status" if the device is working properly.
Step
Select the "Driver" tab in the Properties screen to view information about the currently installed driver for that device.
Step
Click "Driver Details" to view more in-depth information about the driver the device is using. This screen shows you the location of the driver files, the provider and the file version. Click "OK" to return to the previous window.
Step
Check the date listed for the driver in the "Driver" tab of the Properties screen for the device. If it is over a few months old, there could be a new driver available. From the "Driver" tab, you can click "Update Driver" to have Microsoft Update automatically search for a new driver.