The wireless feature (AirPort) on a MacBook allows you to connect to available wireless connections. By default, the AirPort is always on; however, you may need to disable it if you are troubleshooting wireless connection problems. Because the AirPort consumes battery power, you may also need to disable it if you are not in a location where you need to use wireless connections.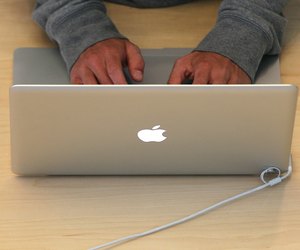 credit: Justin Sullivan/Getty Images News/Getty Images
Step
Locate the AirPort icon located in the top right corner of the desktop, and click it. Scroll down the pop-up menu, and click "Turn off AirPort" to disable your MacBook's wireless.
Step
Alternatively, click the "Apple" logo in the top left corner, and select "System Preferences." Click the "Network" icon under "Internet and Wireless" to launch the "Network" dialog box.
Step
Click "AirPort" on the left panel, and click the "Turn AirPort Off" button to disable the MacBook's wireless.