One of the common annoyances among Windows users are the consistent Help and Tips pop-ups or balloons. If you want to disable this feature completely all you need to do is make a quick change of settings in the Registry Editor utility, as Microsoft recommends. Although this is an easy process that requires manual configuration, Microsoft offers a free wizard option that does the job for you. See the References section of this article for a direct link on that.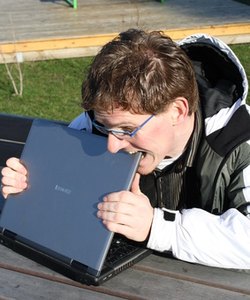 Disable Windows Help Pop-ups
Step
Click on "Start" menu, click on "Run" and type "regedit" at the command prompt. The Registry Editor opens up.
Step
Expand the "HKEY_LOCAL_USER" hive and continue expanding the following keys and sub-keys: "SOFTWARE" > "Microsoft" > "Windows" > "CurrentVersion" > "Explorer," then click on the "Advanced" folder.
Step
Right-click on an empty space on the right pane. Select "DWORD Value" from the drop-down menu. A "New Value #1" displays at the bottom of the other values in the list on the right pane.
Step
Rename the new DWORD you created. Right-click on it and select "Rename" from the drop-down menu, if necessary.
Step
Enter the following name: "EnableBaloonTips" (without the quotation marks).
Step
Double-click the "EnableBaloonTips." A dialog box opens up.
Step
Enter the value of "0" (zero) in the provided text field for its Value data, then click "OK" to confirm.
Step
Restart your computer.