Microsoft's PowerPoint application allows users to create engaging slideshow presentations. Some presentations are so compelling that viewers do not want them to end. PowerPoint slideshows normally stop when they reach the last slide. However, you can alter this default setting and loop your presentations until someone stops them. Create colorful screen-savers, advertising displays and endless tutorials by learning to loop PowerPoint presentations.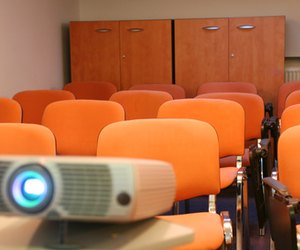 Step
Open PowerPoint and press "CTRL+M" to create a new slide. Type "Slide 1" into the slide.
Step
Press "CTRL+M" to create another slide. Type "Slide 2" into the slide.
Step
Click "Slide Show" at the top of the PowerPoint window. Then click "Set Up Slide Show" to display the "Set Up Show" window. Locate the "Show Options" section of the window.
Step
Click "Loop continuously until ESC' to put a check mark in the check-box. Click "OK."
Step
Click "File" and select "Save As." Enter a name for the file in the "File name" box and click "Save."