FrostWire is a peer-to-peer network application. You can download games, movies and programs from other individuals. FrostWire is a free program that installs and sets up on your PC. This application has a search feature. In addition, you can listen to downloadable music while you obtain other applications. It has a chat feature where you can ask for certain files or discuss the programs that you have available. Downloading games off of FrostWire can add to your gaming collection.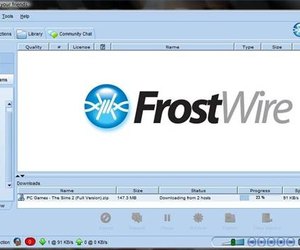 Step
Open FrostWire. Go to the "Start Menu" then "Program Files." Scroll to the FrostWire folder and double-click on the application. Click on the "FrostWire" icon on the desktop for quicker access.
Step
Click on the "Search" tab. Select the "Program" button. Insert the name of the game. Change the OS (Operating System) "Platform" by clicking on the down arrow. Add the name of the publisher and licenses type if applicable. Click the "Search" tab. Wait for the list to populate.
Step
Scroll though the applications. Locate the game. Click once to highlight the game. Press the "Download" arrow button on the bottom of the screen. A download box with your current transfers will appear. Wait for the game to download off of FrostWire. Depending on the speed of you Internet connection and the file size, it will take approximately an hour.