The Contacts app on an Apple iPad running iOS 7.1 is not limited to basic information like your contact's name, email and phone number. Depending on how much information you want to amass, you can add photos, birthdays, instant message addresses and ringtones; link contacts; or add your own custom fields. You can access your contacts on any Apple device if you store them on iCloud.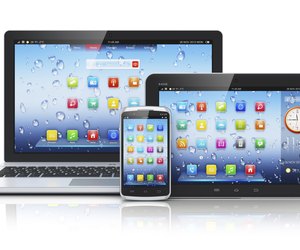 credit: scanrail/iStock/Getty Images
Edit Contacts Settings
You can customize the Contacts settings on your iPad to suit your needs. Tap the "Settings" icon on the home screen; scroll down to and then tap the "Mail, Contacts, Calendars" section. Once inside the section, you can change the sort and display orders to either given or surname first. You can also create a short name for your contact. To sync your contacts to other devices, tap "iCloud" from the Settings menu and toggle "Contacts" to turn on iCloud services.
View Contact Information
If you want to view or send a quick message to a contact, tap the "Contacts" icon on the iPad home screen and tap the contact's name. You can also instruct Siri to open the Contacts app by holding down the "Home" button and saying "Open Contacts." From an individual's screen, you can send a message, share the contact's information with others by text or email or add to favorites.
Edit Contact Information
When a contact's profile changes, you can easily edit his information. Tap "Contacts" and highlight the contact and tap "Edit." To update existing information, tap the field; to delete existing information tap the "X" that appears to the right of the field and type in new text. Tap the "Minus" button to the left of the field if you wish to eliminate the entire field. Tap "Done" to save your changes.
Add Contact Information
Open "Contacts" and select the desired contact. Click "Edit" to access additional field choices. Each category has a plus sign next to it or an arrow to the right. If your contact has several phone numbers or emails, for example, tap the "Plus" button to add more information. Each time you click the Plus button, a new label appears; if you wish to see all the available labels, click in the label field and choose a new label from the menu. Follow the same pattern for all the fields you wish to add. Note that each category is prepopulated with common options, but you can add your own custom label. If you want to add even more fields to the extensive list, scroll to the bottom of the contact page and tap "Add Field."