If you connect to a hotspot or router wirelessly on your Mac, you are utilizing your Mac's AirPort card. If the network is protected by a password, all you need to do is enter the required password and your AirPort card will connect. Your Mac will also keep track of your frequently accessed networks, as well as store any passwords should you need to find them in the future.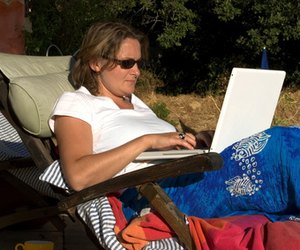 Step
Locate "Go" in the Apple menu. Scroll down to "Utilities," and click to open the folder.
Step
Double-click on "Keychain Access" in the folder.
Step
Locate the name of the network in the "Keychain Access" window, and double-click on the name.
Step
Click on the check box next to "Show Password" in the window that opens.
Step
Enter your user password where prompted, and click "OK."
Step
Click on "Allow" or "Deny" to store the password you just entered in your keychain.
Step
Write down or copy the password that appears next to the "Show Password" box for reference.