Whether for business or personal use, an email address is necessary for communication, retail transactions and even as login information to access websites or data. Because of its prominence in Internet activities, with a little identifying information, you may be able to find someone's email address through a free search online. Not every search will return an email address, but with persistence and key word choices, the chances of locating someone's email address are good.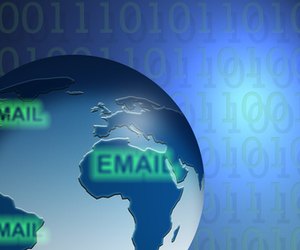 Step
Search social networking sites using the name of the person whose email address you want to find. Search school-alumni sites like Classmates.com and Reunion.com. People may choose to make their email address available to the public so that others can find them and reconnect. Facebook and MySpace list email contact information on a user's profile page unless the information has been made private, which some people might not think or want to do. You may be required to sign up for a free account with these types of websites in order to access identifying information of other members.
Step
Type the person's name in a search engine like Google, Bing or Yahoo. Use quotes around the person's name ("John Smith") followed by the word "email," and click the "Search" button. A search with these quoted words will return results for webpages that contain both the person's name and the word "email" on the same page. Among those results, you may find a link where the person has made their email available. Search blog profiles, as most have the option to list an email contact or are made public by default. Bigfoot provides an email search engine that is easy to use. Search results reveal an email address as well as a city and state.
Step
Use search engines like Spokeo and Pipl that focus on providing specific data related to an individual. These sites conduct more in-depth searches through public sources of information and also will scan online documents (pdf and doc files stored on servers), member databases and personal profiles. From the results page, you may be able to view an email address for free. If not, you'll be offered an opportunity to view the information for a monthly membership fee.
Step
Check the website of the person's employer. Businesses frequently list the email addresses of their employees. If you know where the person works, check to see if their company has an online staff directory. Otherwise, type the person's name in a search box on the company's website, if available.