Wi-Fi is a technical term used to describe a specific kind of wireless Internet network. Wi-Fi is often offered in public locations such as restaurants as a perk--you can enjoy a nice meal or a cup of coffee while checking your email or surfing the Web. To find a listing of Wi-Fi service providers in your area, check websites that track Wi-Fi hotspots.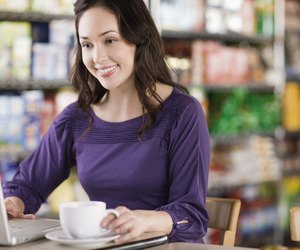 credit: Jupiterimages/Brand X Pictures/Getty Images
Step
Go to Hotspotr.com (see References), OpenWifiSpots.com (see References), or one of the many other websites available that are set up to allow you to search a specific area for Wi-Fi hotspots.
Step
Type your ZIP code into the "Search" box on the website.
Step
Click "Go." (Some websites may label this button "Search.") This will load a map of the search area with markers at every point where a Wi-Fi hotspot has been reported.
Step
Enter your exact address on the main webpage for a more detailed listing. This will provide you with Wi-Fi hotspots in order of distance from the address you have entered. You will also have the option of seeing exact directions on how to get to any Wi-Fi hotspot you choose.