Wired Equivalency Protection is an encryption standard for protecting wireless network traffic. The security scheme uses a WEP key to encrypt all transmissions on the network and was originally designed to provide protection equal to a wired network, which is more secure than wireless by definition. The WEP key is located in the computer's network interface configuration information.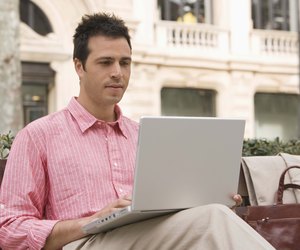 credit: Jupiterimages/Brand X Pictures/Getty Images
Step
Click "Start," type "network and sharing" (without the quotes) in the Search box and click the "Network and Sharing Center" link in the list of available programs.
Step
Click the "Manage Wireless Networks" link in the left pane of the resulting dialog window.
Step
Click the link for the network in question, right-click your selection and click "Properties."
Step
Click the "Security" tab and check the "Show characters" box. The WEP key characters display in the "Network security key" box.