A webcam transmits video into a computer through a USB cable that transfers the data as well as supplies the power to the camera. To speed up the webcam's ability to transmit video at a frame rate that looks natural to the eye (i.e., keep it from being "laggy"), eliminate bottlenecks in the computer's operating system that comes from the inability of the graphic card to manipulate the camera simultaneously with other functions. The procedure is straightforward and does not require the use of any software that doesn't come included with the operating system.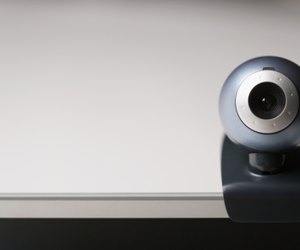 Step
Click the "Start" button, followed by "Control Panel." Click "Appearance and Personalization" on the window that appears. Click on "Personalization."
Step
Click "Display Settings," followed by "Advanced Settings." Click the "Troubleshooting" tab, followed by "Change Settings."
Step
Move the hardware acceleration slider that is in the window now on the screen left so that it is even with the second or third notch on the left to relieve the strain on the graphic card.
Step
Close the window on the screen by clicking the red "X" in its upper right corner. Restart the computer.