If you try to visit an URL that is not formatted in the appropriate syntax, you may receive an "HTTP 400 Bad Request" error from your Web browser. Microsoft included a solution to this problem for Windows users in the Service Pack for the .NET framework. Make sure to backup your system files and registry before making any changes.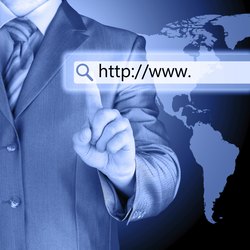 credit: merznatalia/iStock/Getty Images
Installing the Service Pack
You can download the .NET Framework 1.1 Service Pack 1 from Microsoft's website. Visit www.microsoft.com and click the "Download Center" link. Choose a destination folder for the files and click "Save" or press "Enter." When the file finishes downloading, open it and follow the installation wizard's instruction.
Registry Entries
You must also edit an entry in your Windows registry to completely fix the HTTP 400 Bad Request error. Click the "Start" button and choose "Run." Type "regedit" in the input box and press "Enter" to open the registry editor. Click "Edit" and select "Find." Type "HKEY_LOCAL_MACHINE\SOFTWARE\Microsoft\ASP.NET" and press "Enter" to begin searching for the folder. When you find it, right-click on the item titled "VerificationCompatibility" and choose "Modify." Change the "ValueData" value to "1" and press "OK." Close the registry editor and restart your computer.