Laptop scrolling helps you to get where you want to go, faster. Typically, you can scroll up or down a few lines. You can even scroll one page or screen at a time. If you find yourself spending extra time to repeat a certain pattern of scrolling, it may be best to fix things in order to better suit your needs. The result is enhanced productivity, decreased frustration and a better, customized computing experience. These simple steps show you how to make your scrolling uniquely your own.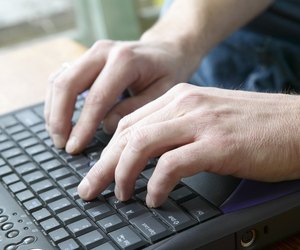 credit: Hemera Technologies/AbleStock.com/Getty Images
Adjust Your Mouse to Scroll Settings
Step
Click "Start," then click "Run."
Step
Type "main.cpl" in the "Open" text box.
Step
Go to the "Wheel" tab and select either option "the following number of lines at a time" that you would like your mouse to scroll and then choose between 1 -100; or select option "One screen at a time," which is the same as paging up or down.
Step
Click "Apply" and then click "OK."
Adjust Scrolling Within a Document
Step
Open the document in the program it was created in.
Step
Select "Tools" from the toolbar menu, then select "Options."
Step
Go to the "View" tab and either check or remove the check for one or both of the boxes next to "Horizontal scroll bar" and "Vertical scroll bar."