A newly added computer hard drive contains only an unallocated space that is not suitable to store files. The drive needs to be formatted, but first you have to create a partition on the drive to define it as a storage place for the operating system. The Disk Management utility in Windows enables you to easily format a new hard drive.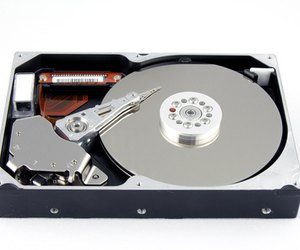 Step
Log in to an administrator account in Windows XP, Vista or 7.
Step
Click the "Start" button in the bottom left-hand corner and then open "Control Panel."
Step
Click "System and Maintenance" (in Windows Vista or 7) or "Performance and Maintenance" (in Windows XP).
Step
Select the "Administrative Tools" option and open "Computer Management."
Step
Click on the plus (+) sign next to the "Storage" tab to expand it.
Step
Click "Disk Management" to open the window that contains the graphic representation of all drives on your computer.
Step
Right-click on a rectangle that represents unallocated space on a hard drive, and select "New Simple Volume" (in Windows Vista or 7) or "New partition" (Windows XP) from the context menu. Note that the color code that corresponds to the unallocated space vary in different Windows versions; consult the legend in the bottom of the Disk Management window.
Step
Click "Next" and then "Next" again to accept the default size of the new partition.
Step
Choose the option "Format the volume (partition) with the default settings" and click "Next."
Step
Click "Finish" to create a new partition on the hard drive and format it.