A flash drive is a portable memory device, connected via USB, that allows you to store files and carry them wherever you go. Flash drives are useful if you need to keep a backup of certain files or if you need to transfer files between multiple computers without using an Internet connection. If your computer is having issues recognizing your flash drive, there are a few steps you can take to troubleshoot the problem.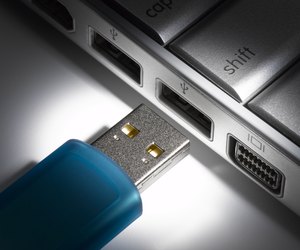 credit: Jeffrey Hamilton/Digital Vision/Getty Images
Step
Connect your flash drive to your computer using an available USB port. If your flash drive is not recognized, you'll usually receive an error that says "USB Device Not Recognized."
Step
Click "Start" > "Control Panel" and open the system configuration by double-clicking the "System" icon.
Step
Navigate to the "Hardware" tab and click the "Device Manager" button to open the Device Manager.
Step
Click the "+" next to "Disk Drives" and locate your USB flash drive. A question mark icon should be shown to the left of the label. Right-click the device name and select "Uninstall."
Step
Open the "Action" menu at the top of the Device Manager and select "Scan for hardware changes." This will scan your PC for any new devices. Because you uninstalled the flash drive, it will be detected as a new device and the drivers will be reinstalled.
Step
Click "Start" > "My Computer" and look for your flash drive. If this process was successful, your flash drive should now show up under My Computer as a storage disk.