Email is short for electronic mail. An email account allows users to send and receive messages. These messages may include information, pictures and business documents. Email messages are sent instantly, whereas sending a letter through the post office can take days. One company that provides free email accounts is Yahoo! Getting in to your Yahoo! email account to check your mail is simple.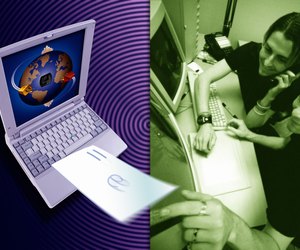 credit: Stockbyte/Stockbyte/Getty Images
Step
Connect your computer to the Internet. There is no other way to get to Yahoo! if you are not connected to the Internet.
Step
Navigate to Yahoo!'s homepage (see "Resources," below, for a direct link).
Step
Click on "Yahoo! Mail." This is listed on the side bar to the left.
Step
Type your Yahoo! email address minus the @yahoo into the box that reads "Yahoo! ID."
Step
Type your password into the box that reads "Password."
Step
Click the "Sign In" button after you have finished filling in your two boxes.
Step
Click the "Check Mail" button on the top-left side of your screen, and go through your mail.