Your computer's registry holds information for all of the information on your computer including hardware, software, and preferences. All changes made on the computer are stored in the computer's registry. As time progresses, your registry begins to hold tons of information and ultimately creates errors (RUNDLL). Your computer may also run slower. Getting rid of these RUNDLL errors can be done in a few simple steps.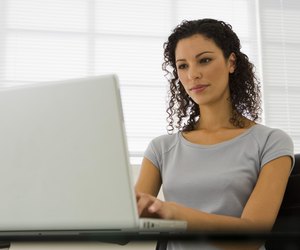 credit: Pixland/Pixland/Getty Images
Step
Create a backup of your computer's registry and system before getting started. This is to ensure that you can restore the computer if something goes wrong. If you make a mistake when editing your registry, your entire system will be corrupted.
Step
Delete the process from the Windows Registry. Open your Start menu, click "Run," and type in "regedit." Press "Enter."
Step
Double-click the HKEY_LOCAL_MACHINE folder. Inside that folder, double-click "Software." Open the "Microsoft" folder, then "Windows."
Step
In the Windows folder, open "Currentversion" and click on the "Run" folder. Click on "WildTangent CDA" file (RUNDLL32.exe). Delete the file by pressing "Delete" on your keyboard.
Step
Restart your computer and make sure that everything is working normally. The error should now be gone.