GarageBand is a consumer-level digital audio workstation that comes with Apple's OS X. Although relatively simple in comparison to Apple's Logic, its professional-level sibling, GarageBand offers most of the basic functionality an amateur recorder needs to make high-quality audio or MIDI recordings. Time-keeping in GarageBand is managed by its built-in metronome, which can be adjusted and turned off and on as the user requires. It is especially important to turn it off when recording live input through a microphone, which may pick up and record the metronome sound along with your vocals. The metronome is engaged by default whenever you open GarageBand and must be turned off manually if you don't want to use it.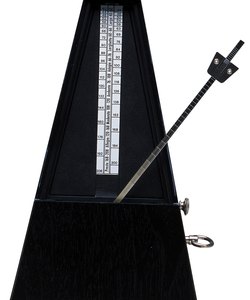 credit: Comstock/Comstock/Getty Images
Step
Open GarageBand. A dialog screen appears requesting that you select a saved project or select a template to create a new one. Click on the icon for the project you want to open and click "Choose." If you want to start a new project, click "New Project" and select the appropriate template from the list that appears. Click "Choose" to load the template. GarageBand will load and display your selection.
Step
Open the "Control" menu and turn off the "Count In" option if it is turned on. It will have a check-mark next to it if it's on. If there is no check-mark, leave the "Count In" option as it is. This option makes GarageBand's built-in metronome count for one bar before beginning to record the input.
Step
Click on the "Metronome" icon -- an image of a traditional clockwork metronome -- in GarageBand's transport bar to turn the metronome off.