LiveMixTapes enables independent musicians to get their music to the masses through the exchange of "mixtapes" over the Internet. Any artist, regardless of genre, can submit a mixtape to LiveMixTapes in hopes of it being featured. In order to submit a mixtape for consideration, you'll need to apply for upload permission.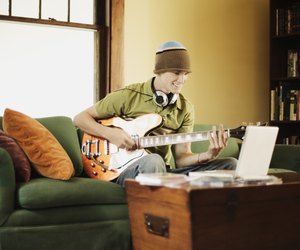 credit: Jupiterimages/Stockbyte/Getty Images
Creating Your Mixtape
Despite the name, submitting a mixtape for LiveMixTapes doesn't involve getting out an audio cassette recorder and a couple tapes to make an old-fashioned mixtape. Instead, you create a ZIP file containing a folder with all the album contents for your "mixtape," including album art, playlist file and MP3 audio files of all the songs included.
Submitting an Application
Applying for upload permission is a multi-step process. First, you need to log in to your LiveMixTapes account and click on your username in the header bar and select "Upload Mixtape." Depending on backlog, you may be presented with an application form, or you may be informed that you will be contacted soon regarding your submission. Once you are presented with a form, fill it out and submit it to be considered for uploading permissions. Once you have permission, you can upload the mixtape file and add any necessary information.