Ever wish you could lighten your load and carry your guitar without also lugging an amp, speaker and stomp box around? That's exactly what you're able to do with iRig, an adapter designed to allow you to connect your guitar plug into your iPad. The iRig's 3.5mm headphone plug splits into two female plugs, one for your headphones and another for your guitar. As of time of publication, iRig is $40, which may be more than you can spare for an adapter cable. Fortunately, there are many alternatives to hooking up your guitar to an iPad.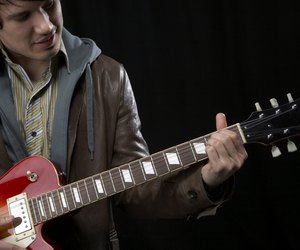 Step
Determine how much you can afford to spend. Guitar adapters come in a range of prices with some as low as $13, such as the adapter made by Petersen.
Step
Review your requirements. Answer the following questions: "Do I need to plug in my headphones and guitar simultaneously?" and "How important is sound quality?" These questions help narrow your selection. For example, if your answer is "Yes" for the first question, then products such as the one from Petersen drop from consideration because it has no headphone input.
Step
Read reviews of guitar adapters that fit your criteria. Pay attention to consumer reviews that have used the product and ask for recommendations from professionals at your local musician shop.
Step
Pick an adapter that meets your criteria and then plug the 3.5mm plug into your iPad. Next, insert your guitar cable into the adapter port at one end and your guitar at the other end.