How to Make a 3 Way Phone Call. Sometimes when you are talking to another person you find the conversation is about a friend who neither of you have seen in a while. You can get this person on the phone right away so he can talk to both of you by using the three-way phone call feature.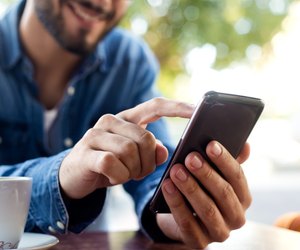 credit: nensuria/iStock/Getty Images
Step
Advise the other person that you will call the third person and activate the three-way calling feature.
Step
Place the existing call on hold by depressing the "flash" button located on your phone. Your existing caller is now on hold.
Step
Depress the phone on/off hook, if you phone does not have a "flash" button. Depress the phone hook and quickly release it so you do not disconnect your caller. This will place that call on hold.
Step
Listen for the dial tone.
Step
Dial the phone number of the person you want to add to your three-way call. When the person answers tell them you are going to hold a three-way call.
Step
Press the flash button now and all three people are on the call.
Step
Click the phone hook quickly if you used this method. Make sure you do this quickly to avoid disconnecting your parties. All three people are now on the call.