Windows Live Movie Maker is a free program distributed by Microsoft that allows you to edit video footage. While the program offers less features than some of its competitors, it is known for a very easy-to-use interface. If you know your way around the program, there are ways of creating effects that did not come with the program originally. Adding a censor bar to your video footage is a perfect example.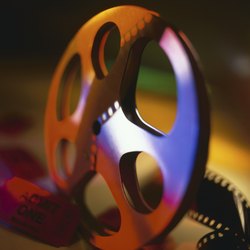 credit: Hemera Technologies/Photos.com/Getty Images
Step
Open Windows Live Movie Maker, then drag and drop your video footage into the white area on the right side of the program. A time line of the footage will appear in the area.
Step
Look through the time line of footage on the right and find the spot on your footage where you want to place the censor bar, then click on that spot with your mouse.
Step
Click the "Home" tab in the blue bar at the top of the program, then click the "Caption" button. A text box that reads "[Insert Text Here]" will appear in the preview window on the left side of the program.
Step
Click the text box, then press and hold your "Alt" key and press "9644" on your number pad. If done correctly, there should be a black bar in the text box.
Step
Hold your "Alt" key, then press "A." Make sure the "Format" tab is selected at the top of the window and change the font size to 72. You can adjust the font size to make the black bar bigger or smaller.
Step
Click and drag the dashed edges of the text box to move the black bar and censor wherever you need.