Making your wireless connection secure may be a necessary step if unauthorized users are accessing it and stealing bandwidth. You can easily gain peace of mind by securing your wireless network using a WEP or WPA encryption method. Such security procedures for your Wi-Fi connection are easy to set up, and require no previous wireless networking technical knowledge, nor is there a required set of tools.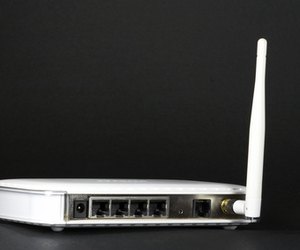 Step
Ensure that your wireless router is connected to your broadband modem via an Ethernet cable. Plug this cable into the back of the wireless router via the "WLAN," "WAN" or "Internet" port and into the back of the broadband modem.
Step
Locate the manual that shipped with your wireless router and find the section that lists the special URL and default password assigned to your wireless router by the manufacturer.
Step
Open your Internet browser and input the URL from the manual, which will take you to a page where you will prompted for the default password. Input this password and hit "Enter." This will allow you to access the settings that govern the security of your Wi-Fi connection.
Step
Choose your "SSID" (the name of your wireless network) when prompted, then choose the option of inputting the optional password that will protect your connection.
Step
Select WEP or WPA encryption. WPA is a newer encryption method that is technically superior to WEP, although both are adequate. Note that older routers may not innately support WPA encryption without a firmware update, so you may be forced to select WEP instead.
Step
Choose "Apply" to save all your settings and set up your secure wireless connection.
Step
Click on the wireless icon located on the right of the bottom toolbar in Windows to access your new secure Wi-Fi connection. In OS X on a Mac, find the wireless icon on the right of the top toolbar.
Step
Choose the name/SSID of your new secure Wi-Fi network from the list of networks that appears. This will prompt you with a password. Input the wireless network password you chose earlier in this process, then wait a moment as your computer joins your secure Wi-Fi connection.