Flash Player has quickly become the most popular and powerful Internet tool for displaying multimedia content. Everything from animations, slide shows, videos and games are programmed in Flash by developers to not only enrich the online experience but to also offer a high level of interactivity for the user. The eye-popping sound and graphics come at a price, as Flash is known for being heavily CPU intensive; this results in some users experiencing sluggish performance on older or nonoptimized systems. Every Flash game has minimum system requirements to run adequately; however, even if all the requirements are met, sluggish performance can still occur. Fortunately, there are relatively simple ways to increase the speed of Flash-based games on any computer.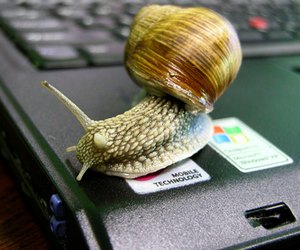 Preparing the System
Step
Boot up the computer and take note of all programs launched at system start-up; icons are shown in the lower-right corner.
Step
Close all open nonessential programs by right-clicking on each one and selecting "Close." Typically, everything except anti-virus software can be shut down. This frees up system memory.
Step
Run Scandisk by right-clicking the primary hard drive and selecting "Properties" and then "Tools." Under "Error-checking," click the highlighted "Check Now" button.
Step
Perform a hard drive defragmentation, found in the system tool menu under "All Programs."
Step
Browse to the Adobe website and download the latest version of Flash Player. Follow the onscreen instructions until the installation is completed and successfully verified.
Step
Update your video card driver by going to the manufacturer's website and downloading the latest version.
Step
Toggle the game quality from high to medium or low (available on some games in the options menu).