When surfing the web, you may want to have more than one website open at a time. Sometimes you might want to allow a slow page to load while you're looking at another page; other times, you might want to display information from two different websites on the screen at the same time. Microsoft's Internet Explorer is designed to allow you to open up as many windows as you like with different web pages, limited only by the amount of memory available in your computer.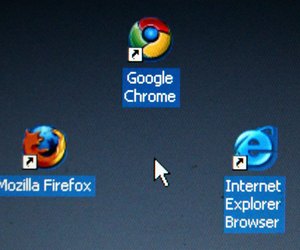 credit: Alexander Hassenstein/Getty Images News/Getty Images
Step
Hold down the "Ctrl" key and press "N" to open a new window. Navigate to any web page in the new browser window.
Step
Right-click on the link that you want to open in a new web page and select "Open in new window" from the pop-up menu. Browse the web in the new window.
Step
Hold down the "Shift" key and left-click on the link you want to open. Use the new window to browse the Internet.
Step
Press and release the "Alt" key, select "File" and choose "New Window" from the menu bar. Browse the Internet to any website in this new window.