The iPad's home screen isn't just a place for apps. If there is a specific web page you go to frequently, you can add a shortcut to the home screen. Each shortcut icon includes an image of the Web page you saved and its name. So instead of launching Safari and navigating to the page, you can simply tap the icon and the iPad will take you there immediately.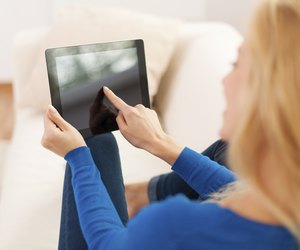 credit: gpointstudio/iStock/Getty Images
Step
Open the Safari Web browser by tapping its icon on the home screen.
Step
Navigate to the Web page you want to create a shortcut for by typing its location into the address bar or searching for it using the "Search" box in the upper right corner of the screen.
Step
Press the button to the immediate left of the address bar, which is shaped like a small box with an arrow pointing to the right.
Step
Select "Add to Home Screen." The website name is used as the shortcut name, but you can change this by tapping it and typing a new name if desired.
Step
Tap the blue "Add" link. The shortcut is saved to the iPad's home screen. When you tap it, the shortcut opens Safari and launches the Web page you saved.