A bad set of directions can make any road trip a hassle filled with wrong turns and traffic jams. With Google Maps, you can generate a set of directions to one or multiple locations, even adjusting your route to take traffic into account. Google Maps automatically generates directions using it's database of streets and traffic statistics; all you have to do is give it your route's starting and ending address.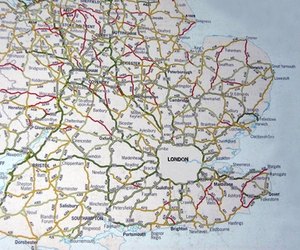 Step
Go to the Google Maps website (see Resources) and click on the "Get Directions" link to begin creating a route.
Step
Type in the address that you are starting your trip from in the box labeled "A." Type the name of the destination in the box labeled "B."
Step
Press the "Add Destination" button to open additional destination address boxes. This allows you to create a route stopping at multiple locations.
Step
Press the "Get Directions" button to generate your route.
Step
Press the "Traffic" button to overlay traffic data on the generated map. The traffic overlay color codes the streets based on traffic speed.
Step
Click and drag parts of the displayed route on the map to make manual adjustments. This can be useful if you wish to create a scenic, less direct route.
Step
Press the "Print" button to print out the driving directions and map.