Known for the Apple logo, Apple brand computers continue to do well with innovations like the iPod and iPad. Apple continuously unveils new products and software and is on the cutting edge of computer systems. Many people have ideas that they want to market to Apple and it is relatively simple to do so, but you might think twice about it once you know the company's submission policy.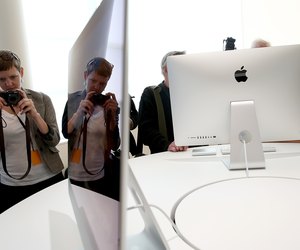 credit: Justin Sullivan/Getty Images News/Getty Images
Step
Read Apple's Unsolicited Idea Submission Policy. Apple has its own team that comes up with new ideas each day. Therefore, it does not like to accept or consider ideas that it does not solicit. If you still decide that you want the company to have your idea, you will be agreeing that your ideas will become the property of Apple, with no compensation to be given to you and that Apple can do what it wants with the submission.
Step
Contact Apple. Visit www.apple.com/contact for the contact information. Keep in mind that once you submit your ideas, you are agreeing that you do not claim any ownership of them.
Step
Follow up on your contact. You may or may not get a response to your idea, as stated by Apple's legal policy. Once you give the company your idea, it becomes the company's property. However, you can continue to follow up to see if the company has made any decision and to see if you will, by chance, receive any compensation.