When you work with a Finder window or an application on your Mac in fullscreen mode, it appears at the front of the display, covering other open application or Finder windows. For example, you could be browsing a website with the free Safari Web browser, with the window filling the entire screen, while behind it you have an open email message in the Mail application and a half-finished document in the TextEdit application. You can easily minimize a fullscreen window on your Mac to see other windows behind it.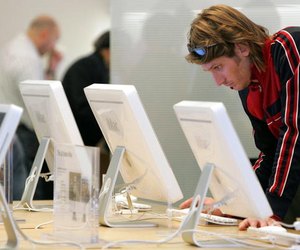 Step
Press the "Command" key and the "M" key simultaneously if you want to minimize a Finder or application window. The window disappears from the screen, and now goes into the Dock, located at the bottom or side of the screen.
Step
Click the yellow circle at the upper left corner of any fullscreen application or Finder window to minimize it to the Dock.
Step
Click the name of the application from the application's menu, and then click "Hide (name of application)" to minimize all its open windows to the Dock.
Step
Click "Finder" from the Finder menu, and then click "Hide Finder" if you want to minimize all open Finder windows to the Dock.
Step
Click the icon of an application in the Dock to make it appear again. If you have multiple windows open in an application, such as three Web pages in separate Safari browser windows, or different Finder windows, right-click on the application's icon in the dock, and then click the name of the document or the window that you want to make reappear.