Mac Mail is the email software program that comes preinstalled on all modern Mac computers. It makes it easy to get all of your mail from various POP3, IMAP and SMTP email servers all in one place. When you open an email in Mac Mail, it will attempt to automatically open attachments for you and display them in the body of the email, if they are pictures. However, if the attachment is a text document or another type of file, you will have to open the attachments manually.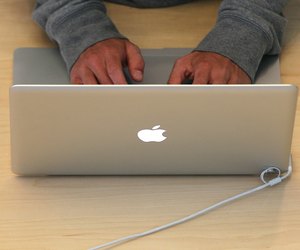 credit: Justin Sullivan/Getty Images News/Getty Images
Step
Open Mac Mail on your computer by double clicking on its icon. Mac Mail is located in your dock or in your applications folder.
Step
Click on the email whose attachment you want to open and wait for the email body to load in the window.
Step
Double click on the attachment in the email. It is usually located at the bottom of the email. The attachment will open automatically using the proper program, if possible.
Step
Download the attachment if it does not open by double clicking in the body of the email, by dragging and dropping it onto the Desktop of your Mac computer, selecting "Save Attachments" in the File menu or by using the "Save" button that appears in the header of the email. Then open it with the appropriate application.