Microsoft Publisher is a desktop publishing application designed for the Windows environment. Microsoft does not currently make a Mac-compatible version of Microsoft Publisher. However, if you have an Intel-based Mac, you can re-partition your hard drive and install Windows as a secondary operating system using a utility called Boot Camp. This will allow you to run windows-specific applications, including Microsoft Publisher. Before you begin, make sure you backup your entire hard drive just in case something goes awry.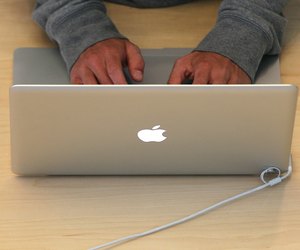 credit: Justin Sullivan/Getty Images News/Getty Images
Install Windows
Step
Click "Applications>Utilities>Boot Camp Assistant" to launch Boot Camp. Follow the prompts until the assistant asks if you want to burn a Macintosh drivers CD. Select "Yes" and insert the blank CD when prompted.
Step
Next, you will be required to create a second partition on your hard drive. Move the slider until the second is large enough for your needs. In this case, 10MB will be sufficient. Click "Partition."
Step
When instructed, insert your Windows OS CD. Insert the disc and click "Start Installation." Follow the prompts until you are required to select the partition to install Windows. Select the partition you have just created, and elect to "Format the partition using the FAT file system."
Step
Allow the system time to format the partition and install Windows. When prompted, enter the product key that comes with your Windows CD.
Step
Eject the Windows installation disc and insert the Macintosh drivers CD you burnt earlier. Installation should begin automatically. If you receive an error message, click "Continue Anyway." When the setup is complete, select "Yes," and click "Finish" to finish the installation and reboot your computer using Windows.
Open Microsoft Publisher
Step
Install Microsoft Publisher. Insert the installation CD or run the setup file that you purchased online. Installation should begin automatically; follow the prompts through and then click "Finish."
Step
Reboot the system, again into the Windows OS, once installation is complete.
Step
Click "Start>All Programs>Microsoft Publisher" to open the application.