Use the Content Advisor to protect Internet Explorer with a password and prevent other people from using your computer to navigate on the Internet. In Internet Explorer 10 and 11, the Content Advisor is no longer visible in the Internet Options window, but is still a part of the Web browser. Although it prevents other people from opening Web pages, the password does not protect your personal information, such as your favorites, download history and Web browsing history.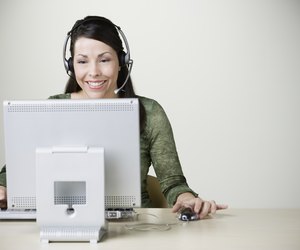 credit: Andersen Ross/Blend Images/Getty Images
Setting a Password in Internet Explorer
Press "Windows-R" to display the Run dialog in Windows 7 or 8.1. The Windows key is located between the Alt and Ctrl keys on your keyboard. Type "RunDll32.exe msrating.dll,RatingSetupUI" (without the quotation marks) into the Run box and press "Enter" to open the Content Advisor window. Select the "General" tab and then click the "Create Password" button. Type the password into the "Password" and "Confirm Password" fields; type a hint in the Hint box to help remember the password in case you ever forget it. Click "OK" to set the password. Internet Explorer displays the hint every time you attempt to open a Web page in Internet Explorer. Type the wrong password, and Explorer displays the message, "Navigation to the webpage was canceled."