"Photoshopping" is the process of manipulating digital pictures--it's not as hard as it sounds and does not require the program Photoshop to do it. I am going to explain a rather simple way to "photoshop" pictures that can be done in several different programs. For this tutorial I will use the program Macromedia Freehand.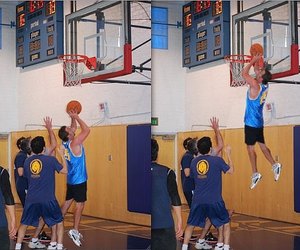 Things You'll Need
A desktop publishing program
Step
Get a desktop publishing program such as Macromedia Freehand, Photoshop or Quark Express.
Step
Find a digital picture that you would like to change. For this article I am going to take this picture of me making a jump shot and turn it into a picture of me slam dunking!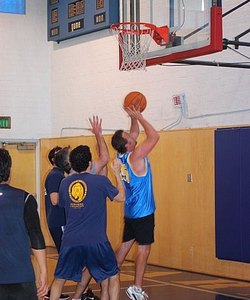 Step
Plan out what you want to do to the picture. The more you plan ahead, the easier the process will be.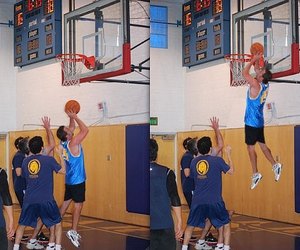 Step
Learn to "paste inside." You should be familiar with the copy and paste process. "Paste inside" is the process of making a copy of a picture, creating a shape, laying that shape on top of the picture you copied and pasting that picture inside of the shape you created. Imagine a picture of an American flag. Click on the picture and make a copy of it. Now create a circle and put it over the middle of the flag, hit "paste inside" and you now have a circle with the middle of the American flag in it. This is "paste inside."
Step
With the "paste inside" action you can do all the "photoshopping" you need. Watch how I first remove myself from the photo below. I need to find spots of the background to cover me up, so I create pieces of the wall and floor behind me that will go over me.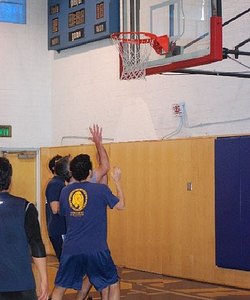 Step
I also need to cut out the picture of myself to place much higher. Using the drawing/tracing tool I first make a copy of the entire picture. I then outline myself and click "paste inside." I have just created a duplicate of myself that I can place anywhere in the picture.

Note that both of my lower legs were not pictured in the original, so I had to duplicate my left leg and place it on my right leg.
Step
Once I am covered up, I then move the picture of me to where I want it to appear.
Step
To make these pictures appear more realistic, use a technique called "feather." This blurs the very outside of the image just a little so that it does not appear to be cut out.