The standard Kindle Fire's multi-touch color screen supports a 1024 x 600 pixel resolution -- up to 1920 x 1200 in the 8.9-inch HD model -- so videos, movies and television shows are displayed in full, vivid detail. Videos streamed through the Amazon store or Netflix are played in full screen format by default. If you choose instead to transfer MP4 or VP8 formatted videos onto the device, access your videos in the Gallery app -- not Videos -- then deactivate the screen orientation lock and flip the device on its side so the video occupies the device's display entirely.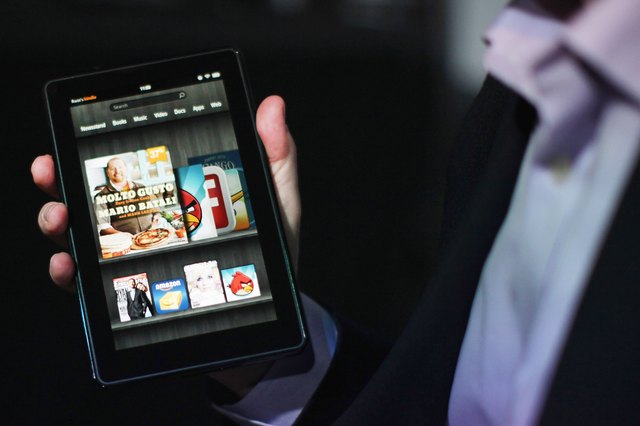 credit: Spencer Platt/Getty Images News/Getty Images
Step
Connect your Kindle Fire to a computer using a microUSB cable.
Step
Double-click the Kindle device icon in your file browser -- Windows Explorer on a PC or Finder on a Mac -- then open the "Videos" folder.
Step
Drag and drop videos from your computer into the "Videos" folder and allow them to fully transfer onto the device.
Step
Tap "Disconnect" on your Kindle Fire screen. Allow a few moments for the device to eject itself electronically from the computer, then disconnect the USB cable from the bottom of the Kindle Fire.
Step
Tap the gear icon at the top of your Kindle Fire's Home screen and ensure that the menu icon at the far right says "Unlocked." If it says "Locked," tap it once to change it to "Unlocked."
Step
Tap the "Apps" tab, then scroll to and tap "Gallery."
Step
Tap "Videos," then tap the thumbnail for the video you wish to watch.
Step
Tilt your device to the side so the video plays in full screen mode. In either orientation (tall/portrait or wide/landscape), video will only stretch to fit the left and right sides of the screen.