Many word processing programs allow you to print envelopes with a Mac computer. However, you can also print envelopes using the Mac Address Book application, which is included in the Mac OS X operating system. You can use this option to print envelopes using addresses already in your address book or you can add addresses as needed.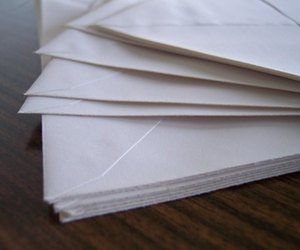 Step
Go to the "Applications" folder. Double-click "Address Book."
Step
Add addresses, if necessary, by clicking the "+" icon under the "Name" menu and entering the address.
Step
Click on an address book, a group or individual entries you want to use. To select multiple individual entries, hold the "Command" key on the keyboard while clicking on the entries.
Step
Go to the "File" menu and select "Print." Click the triangle icon next to the printer to expand the printer options.
Step
Adjust the "Style" drop-down menu to "Envelopes."
Step
Click the "Layout" tab. Set the "Layout" menu to the envelope type you are using. If you are using a non-standard envelope, select "Define Custom" to enter the dimensions manually.
Step
Click the "Label" tab. Check the box if you want to print your address as the return address. Adjust the other label options, such as color and font, if desired. You also have the option of selecting an image for the upper-left corner of the envelope.
Step
Click the "Orientation" tab to select the way you feed envelopes in the printer. All printers are different, so you may need to consult the product manual.
Step
Load the envelopes in the printer and click the "Print" button.