Google is determined to make the information of the world accessible and usable. The search engine company started with the information contained online, but soon Google's hunger for more input could no longer be sated by the Web alone. Google invented a machine to scan the world's books and make them available and searchable online. Books in the public domain, meaning those for which the copyright has expired and no longer restricts the use of the work, can be freely downloaded and printed through Google Books.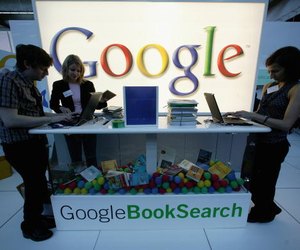 Step
Search for a book topic or title at books.google.com. Enter your search term and click "Search Books." When you see the search results click the Advanced Search link under the search bar. Tick the radio button next to Full View Only and click "Google Search." Now all the results will make the full text of the book available.
Step
Click the link for the book you want to print. When the book page opens, click the Download link in the upper right section of the screen. Choose PDF as the download format. Wait for the download to complete.
Step
Double-click the downloaded eBook from Google to open the PDF file. When the file opens press "Ctrl" and "P" on your keyboard simultaneously to bring up the print dialog box. Save paper when printing by selecting "Multiple Pages Per Sheet" and choosing two or four pages. You can also print on both sides of the paper. When you have the settings you want, click "OK" to print the book.