Knowing how to print name tags is a useful skill. You also can apply the concept to other tasks, such as merging data and using templates. To print name tags, you need to know how many name tags you want to print and whether each sheet of name tags are to be the same or printed with different names on each tag.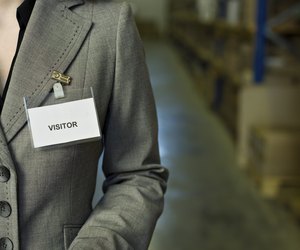 credit: Jupiterimages/Comstock/Getty Images
How to Print Name Tags
Step
Create a data sheet (an Excel document or other spreadsheet document) for all of the names you want to print. If you are only printing one name on a sheet of name-tag labels, then you do not need to create a data sheet, but doing so is preferred.
Step
Open a word processing program such as MS Word, OpenOffice, or a publishing program such as MS Publisher, and open a new template document for labels. Most word processing programs and publishing programs will have templates installed. If not, they can be found and downloaded online.
Step
Adjust the page size of the template document to be adjusted for labels. Ensure that the paper in your printer is proportional to the number of name tags you are creating per sheet.
Step
Add graphics or other designs to your name tags. If using an existing template, designs may already have been added. In that case, you can adjust or edit the graphics.
Step
Type the names onto the name tags from the data sheet, or copy and paste the information from the data sheet, or merge and select the data source through the "Tools" menu.