In 2011, Microsoft spent $8.5 billion to purchase Skype, the company that helps people use webcams to communicate over the Internet. That may be a lot of billions to spend on a chat service, but many Skype members around the world seem to love the program. If you're one of those members and you've ever wished you could click a button to record a Skype video call, install a program that makes it possible. Later, you can click another button to replay your favorite Skype chat sessions any time you like.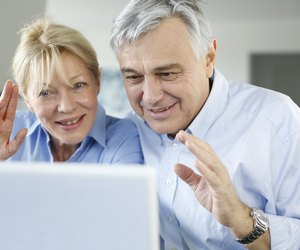 credit: Goodluz/iStock/Getty Images
Use Video Call Recorder for Skype
Video Call Recorder for Skype proves that a program doesn't have to have a thousand buttons and menus to perform useful tasks. Install this light-weight app, and you can record video calls using a simple but effective user interface. When you're ready to record, click the red record button; when you're ready to stop recording, click the stop button. The pause button pauses the recording without stopping it. Switch to picture-in-picture mode and you can record yourself and your chat partner at the same time.
Let Evaer Capture Your Video Chats
Although Evaer is a commercial program, it has advanced features you may not find in free Skype recorders. For instance, you can record using video resolutions of up to 1080p. You can also split your audio and video into separate files. A built-in answering machine records video and audio automatically if someone calls when you're away. You'll find Evaer invaluable when you need to record group chat sessions that have up to 10 callers. The trial version of Evaer lets you try it for free, but places a five-minute limit on recordings.
Record and Share with Callnote Premium
Callnote Preimium, another free Skype video call recorder, comes with the ability to save recordings in Dropbox and Evernote. You'll find this handy when you need to replay your videos while away from your computer. The built-in editor helps you edit recordings, while the sharing feature lets you share them on social media networks such as Facebook. You can also send a recording directly to YouTube by clicking a few buttons. If you love taking pictures, use Callnote Premium as a camera. Click a button during a video call, and the program takes a snapshot of your screen.
Watch Your File Size
Video files can be large depending on the format in which your program saves them. Windows Media Video files, or WMVs, are small compressed files but they lack the quality of larger AVI files. If your Skype recording software supports different file types, choose the one that works best for you. For example, when you don't care about video quality, choose a format that produces the smallest file. If you use a recorder that has an editor, you can use it to trim away portions of the video you don't need to see. Third party programs such as Movie Maker can also help you edit video footage.
Installation Tips
When you download free programs, they may offer to install additional software or toolbars. Companies often do this to acquire revenue they need to support future development. If you don't want to install extra software, select the option to opt out of these extra installations. You may miss the opt-out instructions if you install a program without reading messages that appear during installation.