To record your conversations on Omegle, the popular random video and text chat site, use a third-party program that captures the images on your computer screen. Once the program is running, everything that happens on your monitor will be saved in a video file. You can record both video and text conversations on Omegle with a screen capture program.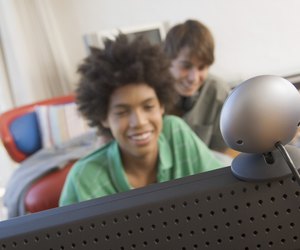 credit: Pixland/Pixland/Getty Images
Screen Recording Programs
Before you get on Omegle, you need to download and install a screen capture program. There are many different programs available, each of which offers a variety of features; CamStudio, Rylstim Screen Recorder and Ezvid are just three. One thing to consider when choosing a program is what type of video file it creates. Depending on what you want to do with the saved Omegle screens, one video file type may be better than another for you.
Choosing a Program
When you choose a program, consider what features you need. Some recording programs, like Rylstim Screen Recorder, offer a variety of codecs. Others, like CamStudio, have the ability to change the file you create into other formats, like the SWF format. Some programs can automatically upload videos to popular video streaming sites like YouTube, while others can record your webcam while they record the screen. If you want to add music to the background, look for a program that can support other media, like MP3 files. Some desktop recording programs, like Ezvid, allow you to edit the video after it's done and can provide narration via speech synthesis.
Using the Program
The way that you activate the program depends on which program you choose. On CamStudio, click the red circular button to start the recording and the blue square to stop the recording. On Rylstim Screen Recorder, click "Start Record" to begin recording your screen. When you're done, press "F9." On EZVid, click the computer monitor "Capture Screen" icon to start recording. Click "Stop" when you're done recording. After you start recording, navigate to Omegle to start your conversation.
Safety
It's very important to stay safe when you record your desktop, especially if you plan to share the resulting video. When you record video chat or text chat on Omegle, you're also recording the text or video you enter. Other information on your monitor will also be displayed, including your toolbars, browser tabs and any sites you visit before or after Omegle. As long as you're recording, the video will capture what's being done. Use your best judgement and discretion when sharing videos recorded on Omegle.