In old versions of iOS, there was no way to remove music directly from an iPad: You had to change the sync settings in iTunes, connect the iPad to the computer and resync. This method still works in the current versions of iOS, but if you're out of the house and need to free up space immediately, you can erase individual songs, albums, artists or even the entire music library without using a computer.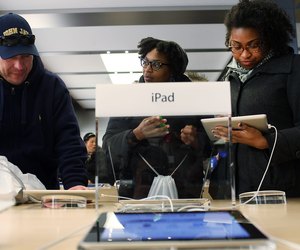 credit: Spencer Platt/Getty Images News/Getty Images
Delete Individual Songs
On iOS 7 and iOS 8, you can remove individual songs from within the Music app on your iPad. Open the "Songs" tab, or open a particular album or artist's page. Swipe from right to left along a song's title and tap "Delete." There's no confirmation screen after you press "Delete," but if you accidentally erase the wrong song, you can get it back the next time you sync your iPad with iTunes on the computer, or, if you bought the song through iTunes, by redownloading it in the iTunes Store app. Deleting a song in the Music app never erases the song from your computer.
Remove All Music
If you're in a pinch with drive space on your iPad, remove the entire music library from the Settings app. Tap "General," "Usage" and then "Music" to see how much space your entire library takes up. Swipe left along "All Music" and press "Delete" to erase all songs. As with deleting individual songs, you won't permanently lose access to your music by deleting the music library from your iPad, so it's safe to use this method to regain a large chunk of space in an emergency. You can also remove all your iPad's music through iTunes 11 on your computer: Connect your iPad, click the "iPad" button in iTunes, open the "Music" tab and uncheck "Sync Music."
Remove Albums and Artists
In iOS 8, Apple added the ability to delete entire albums from your iPad. You can check how much space every album uses in the Usage section of the Setting app, but to actually delete the albums, head back to the Music app. Open the "Albums" tab and swipe left on an album to show the "Delete" button. The same trick works to remove artists from the "Artists" tab. If you don't have iOS 8, or you want to change out several albums and artists, hook your iPad up to iTunes on the computer and choose "Selected Playlists, Artists, Albums, and Genres" on the "Music" tab.
Hide Cloud Songs
Songs with a cloud icon in the Music app indicate tracks that you bought on iTunes that aren't currently on your iPad. You never need to delete these songs -- they don't take up any space on the drive -- but you can hide them to reduce clutter in the song list: Open the Settings app, tap "Music" and switch off "Show All Music." Even with this switch off, you can download previously purchased songs to your iPad through the iTunes Store app.