Refilling Lexmark cartridges is a way to save money every now and then. However, when the cartridge is refilled and placed back into the printer, the microchip on the side of the cartridge still reads as empty. This causes a low ink message to pop up on your computer screen every time you wish to print. Resetting the cartridge will change its status back to the original full setting, doing away with this message for good.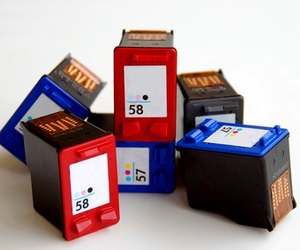 Step
Install the refilled ink cartridge by opening the access area and placing it into the slot in the print head carrier.
Step
Shut down the printer, and then turn it back on while pressing the "Ready", "Go" or "Select" (depending on your model printer) and "Return" buttons on the printer to bring up the diagnostics menu. The printer will go through a self-test procedure. Once this procedure completes, go to step 3.
Step
Navigate to the "Maintenance Page Count" section and reset the page count indicator by pressing either the "Reset" option or the "Reset Maintenance Count" option and then pressing the "Select" button.
Step
Push "Return" to go back to the main printer menu and exit the diagnostics mode.