Resetting genuine HP printer cartridge chips will prevent the ink level message from appearing every time you attempt to print a document after you have refilled the cartridge. These chips are set by the factory to track the level of ink inside the cartridge. However, simply refilling the cartridge with ink will not reset the chip. A small electronic device is used to reset HP chips. The process takes just a minute to complete.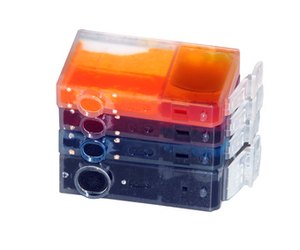 Step
Purchase an HP cartridge reset tool at an ink refill or supply store. The resetter must match your specific model of cartridge in order to work properly.
Step
Remove the HP cartridge from the printer by opening the access panel, pressing on the release tab and pulling the cartridge out of the carrier head.
Step
Hold the reset tool next to the metal contact tabs located on the side of the cartridge. A light will indicate whether or not a connection is established. Once you see the light, hold the device and cartridge together.
Step
Wait for another green light to signal the reset is complete. Remove the device and insert the cartridge into the printer. Close the panel and select a document to print. Check the computer screen to see that the ink level message does not appear.