Printer manufacturers, including Canon, Hewlett-Packard and Brother, also produce the ink to go with each specific printer. When a cartridge runs out of ink, the little copper computer chip on it tells the computer that it's out of ink. With the rising cost of ink, some people are now refilling their own cartridges manually instead of buying a new cartridge. However, that computer chip still says the cartridge is empty and must be reset.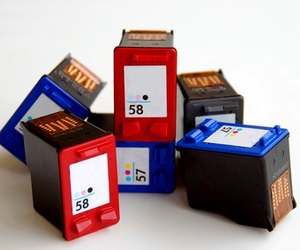 Step
Purchase a chip resetter for your printer model. Most are made to work with multiple printers from the same manufacturer. Find one for your manufacturer and for your model of printer. The chip resetter will cost between $5 and $18.
Step
Set the part of the ink cartridge with the square copper chip--usually the back or bottom--into the chip resetter. In some cases you will be putting about half of the cartridge in, and in some cases it's just a small portion.
Step
Hold the cartridge in the resetter for about 30 seconds. Some models will have a red flashing light that turns green, which means it is done. If there's no light, just hold it in for the full 30 seconds. Repeat the process with all cartridges you want to reset.
Step
Replace the cartridges in the printer if they have ink in them and print a test page.