The Lenovo ThinkPad is a brand of laptop computers originally owned by IBM. Like many computer manufacturers, Lenovo provides restoration software on a partition of the laptop's hard drive. This software allows you to completely format and restore your computer back to factory defaults. This process is useful when viruses, user error or other events cause the Windows operating system not to function. The recovery software is accessed when the laptop is first booted. Please note that this process destroys all user data and you should back up all important information before beginning this procedure.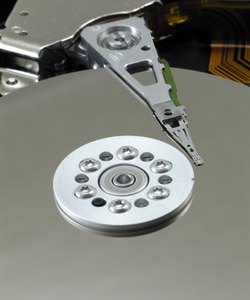 Step
Reboot or turn on the computer. Pressto enter the service partition. Note that this message will stay on the screen for only two seconds. If you miss the screen, reboot and try again.
Step
Select "Full recovery" in the main menu of the service partition and follow the onscreen instructions to begin a recovery of your system. Allow the recovery procedure to finish. Reboot the computer and allow Windows setup to complete reinstallation of your software and drivers. Allow the installation to finish and reboot the computer again to finish the recovery.
Step
Reinstall any programs and run Windows Update to ensure you have the latest security updates and protection for your computer. Copy any backed up data back to your hard drive.