When you receive a photo in your email, you might want to save it. This way, every time you want to look at it or show it to someone, you won't have to log into your email account and search for it. Instead, you can just open the folder you store your pictures in and view your photos there. Depending on which email program you use, the process of saving a photo might vary slightly.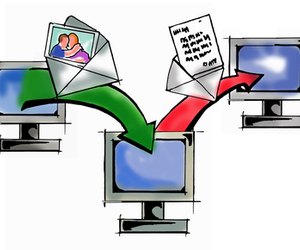 Step
Hit the download button next to the picture or the link that has the name of the picture. If an image is attached in an email, most email programs, such as Gmail, Yahoo and Hotmail, will have a download button near the picture you are trying to download. If you don't see a download button or link, click on the thumbnail of the picture, and a button will likely pop up.
Step
Choose a location to save the image. You will either be prompted with a message box asking you where you want to download the image, or the image will automatically go into your downloads folder. Depending on your browser settings, it may also go into a different folder, which you previously designated.
Step
Right click the image. This is another option for saving, if you can't find a link or download button. With most email programs you will see a small version of the attached picture in your email. When you right click it (or hit control click on a Mac), you will see a "Save As" or "Save Image As" option. This will allow you to choose a folder or location to save the picture to. If the image is not attached, but is instead embedded in the email message, you can also right click the image and choose "Save As." Some versions of Outlook will not give you a Save As option when you right click an embedded picture. You should, however, at least see an option to copy when you right click. In this case, choose copy and the image will save to the clipboard. You can then paste the picture into a picture editing program such as Photoshop or a program like Paint. From those programs you can go to the Save menu to save the picture.