Similar to the desktop version of Safari -- as well the other major Web browsers -- your iPad's Safari app has a Bookmarks utility that saves Web pages for later access. The Bookmark section of the app's Share feature has the settings to bookmark your favorite Web pages. After you create your bookmarks, you can use the Bookmarks utility to effectively manage and organize them. In addition, the Share feature also has an option to save a Web page on your device's Home screen for fast access.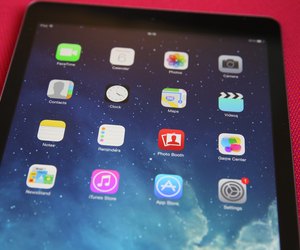 credit: Peter Macdiarmid/Getty Images News/Getty Images
Bookmark a Web Page
When you find a page that you want to view later, tap the "Share" icon -- resembling an arrow leaving the top of a rectangle -- then tap "Bookmark." During the bookmarking process, you can change the bookmark's default name to a more memorable one and also choose a specific folder to save the Web page, such as "Bookmarks." After you complete the process, tap the "Bookmarks" icon -- resembling an open book -- to access your bookmarks.
Manage Your Bookmarks
Tapping the Bookmarks icon not only reveals your list of bookmarks, but the option to organize them as well. Tap "Edit" on the drop-down Bookmarks menu to reveal the settings to organize your bookmarks. For example, you can delete a bookmark by tapping the red "Delete" icon, or create a new folder to file your bookmarks by tapping "New Folder." Additionally, you can use iCloud to add the bookmarks from Safari on your iCloud-enabled Mac computer to the Safari app's Favorites folder on your iPad. Tap the "Settings" icon on your iPad's Home screen, select "iCloud" and then tap "Safari." If you use a Windows computer, you can add your bookmarks by using the iCloud for Windows program, which is available as a free download from Apple.com.
Create a Web Page Shortcut
For one-tap access to a favorite Web page, you don't even need to open the Safari app. Use the app's Share feature to add a shortcut to a Web page directly on your iPad's Home screen. Tapping the shortcut launches the Safari app and opens the Web page. To add a shortcut, browse to the Web page in Safari that you want to add to the Home screen and then tap the "Share" icon. Tap "Add to Home Screen," enter a name for the shortcut and then tap "Add." If necessary, you can delete the shortcut -- just like any other iPad app -- by tapping and holding it and then tapping the "X" button.