A desktop scanner is the perfect tool for scanning a few pages at a time. But if you have a large stack of documents to scan, you need a larger scanner, or at least a flatbed scanner with an automatic document feeder. Having the right equipment in place and knowing how to use it properly will allow you to scan even the largest documents with ease.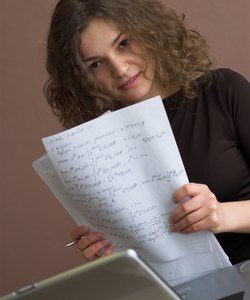 Step
Check your scanner to make sure it has an automatic document feeder in place. The automatic document feeder sits on the top of the flatbed scanner. If you have a large-format scanner, the automatic document feeder will be in the front of the unit.
Step
Fan the documents you need to scan. Remove any paper clips and staples from the documents before placing them in the feeder. Fan the paper again and look for any torn pieces of paper or pieces of paper that are sticking together. Make copies of any damaged originals rather than trying to feed poor-quality pages through the scanner.
Step
Log on to your computer and open the scanning software. When you install a scanner, the program should place a scanner shortcut on your desktop. If not, click on "Programs," go to the printer manufacturer's folder and select the scanning software from the list.
Step
Load the documents into the automatic document feeder on the flatbed scanner, or into the hopper on the large-format scanner. Press the "Scan" button on the scanner software or the scanner and wait for the pages to begin feeding through.
Step
Press the "Save" button on your scanning software after the last page feeds through. Navigate to he folder where you want to save the scanned document, then click "Save."