Steam, a digital distributor and communication network for gamers, is one of the many ways friends can come together over the Internet to play games with one another. Through Steam they can chat, make phone calls to each other's computers, leave comments on friends' profiles and keep up on the latest game releases. Giving your friends gifts on Steam shows them how much you like playing with them and allows your crew to keep on playing as the years go by.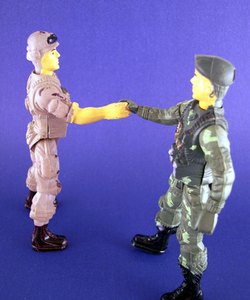 Step
Select a game. Choose from the thousands of titles that Steam has available. If you're looking for a single-player game, determine which kinds of games your friend likes by looking at his current list of games and seeing which ones he plays the most. If you want to buy a multiplayer game that both you and your friend can enjoy together, you'll be buying two copies -- one for yourself and one for your friend.
Step
Click the green "Add to Cart" button on the game's Steam store page. You'll be taken directly to your Shopping Cart. You can't have two copies of the same game in your cart at once, so if you want to purchase multiple copies, you'll have to do so one at a time.
Step
Click the green "Purchase as a Gift" button at the bottom of your shopping cart. Steam will then ask you how you would like your friend to receive the gift. You can choose either to use your friend's e-mail address or to send your game directly through Steam. If you opt to send through Steam, your Friends list will open in the browser window. Choose which friend you want to receive the game. If your friend does not have a Steam account, choose the e-mail option. Steam will send him an e-mail announcing his gift with instructions on how to install Steam, set up an account and install the game. Click "Continue."
Step
Personalize your gift purchase by adding the recipient's first name or his gamer tag and a message -- up to 160 characters -- explaining why you bought him a game. Leave your signature, and click "Continue."
Step
Enter your payment information. Then click the last button to finalize your purchase. Your friend will receive notification that he's received a gift. He can then install the game immediately.