If you use the Microsoft Outlook application to manage your contacts on both a desktop PC and a laptop, you can use the "Export" and "Import" features of the program to send your contact data between the two computers. When exporting your address book from Outlook, the data is stored in a PST file, or personal folders file, the standard data format for Outlook content.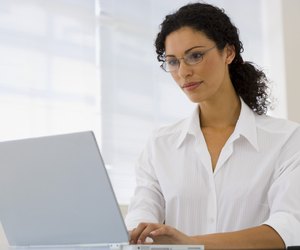 credit: Jupiterimages/Pixland/Getty Images
Step
Open Microsoft Outlook on the PC containing your contacts.
Step
Click on the "Contacts" tab in the lower left corner of the window.
Step
Go to the "File" menu at the top of the screen and select "Import and Export".
Step
Choose the "Export to a file" option and click "Next".
Step
Select "Personal Folder File (.pst)" from the list of file types and click "Next" again.
Step
Make sure the "Contacts" folder is highlighted and click "Next".
Step
Click on the "Browse" button, choose to save the contact data to your desktop and press "Finish".
Step
Send the exported data to your laptop by copying it to an external storage device--such as a flash drive or blank CD--or emailing it to yourself as an attachment.
Step
Use the import feature from the "File" menu to add the contacts to your laptop address book.